Paris A. Spies-Gans
Mary Moser's career has long been circumscribed by portraiture—a hemming in that dates almost exactly to her elevation as a founding member of London's Royal Academy of Arts in 1768. A celebrated flower painter, Moser, later Lloyd (1744-1819), was one of only two women Academicians elected before the early twentieth century. Yet her presence in Johan Zoffany's canonical group portrait of the Academy's thirty-four founding members in a painter's studio, The Portraits of the Academicians of the Royal Academy (1771-1772), has consistently been taken to encapsulate the restrictions that she and her better-known peer, Angelica Kauffman, faced as female artists. As women, the narrative goes, Moser and Kauffman could not attend the Academy's schools, which included lessons in figure drawing that featured nude models. Thus, Zoffany reduced both women to portraits-within-a-portrait, hung high on the wall. In Henry Singleton's group portrait of The Royal Academicians in General Assembly from 1795, Moser and Kauffman again appear paired and sequestered. Moreover, while Kauffman remains celebrated as a portraitist and, more unusually given her gender, as a history painter, Moser is known almost exclusively for her floral works—a genre in which (it has been supposed and asserted), as a woman, she could much more easily excel.
But portraiture was in fact a principal tool for Moser's professional self-fashioning in the Academy's formative years. Through two surviving canvases, both from 1770-1771—a self-portrait, and a portrait of the sculptor Joseph Nollekens (1737-1823)—Moser used the genre to expand the perception and, most fundamentally, the evidence of her artistic identity.
In many ways, Moser fits the tropes commonly applied to women artists by scholars, feminist and otherwise. As a flower painter, she excelled in what is often considered to have been one of the principal fields in which women could thrive. She also came from an artistic family, with a supportive, artist father, which has long been held as one of the key conditions for premodern women's artistic success.[1] Georg Michael Moser (1706-1783) was a Swiss enamel painter and gold chaser who moved to London in the 1720s. There, he met and married Mary Guynier, herself the daughter of an artist.[2] Engaged in London's early efforts to establish an art school and, eventually, a founding Academician as well, Georg Moser trained his daughter to be a painter and to seek recognition in the arts institutions with which he was involved. As a result, Mary Moser's career parallels and reflects the rise of London's commercial art scene. In 1758, she won a prize in the Society for the Encouragement of the Arts' category for girls under eighteen.[3] In 1759, she again won the first premium for her class, with a prize of five guineas, as well as a Silver Medal "as a further award for…her Extraordinary Merit"; this work was shown in London's first public art exhibition, held at the Society for the Encouragement of the Arts in 1760.[4] Moser then exhibited flower pieces at the Society of Artists through 1768, at which point she joined the Royal Academy as one of its founding members.[5]
At the Academy, Moser broadened her exhibiting activity beyond floral pieces for the first time. In the process, she reshaped her identity as an artist. From the Academy's first show in 1769 through 1802, she showed thirty-six works. Seventeen, or less than half of these entries, depicted flowers, while fifteen were narrative scenes, three portraits, and one a landscape. Her flower paintings were largely commended: "A piece of flowers, which seem to want nothing but the smell to realize it," wrote one critic of her 1775 A Piece of Flowers; "flowers which smell, and leaves which court the touch!" opined another in 1780; and, in 1783, of her Flower Piece, "This Artist has acquired a settled reputation in this line of painting. The above appears to be as near nature, as imitation can go."[6] Her non-floral canvases, however, often received harsh criticism. When Moser exhibited a Portrait of a Gentleman in 1784, one review made a point to note, "Looks like a starved poet scratching his head for thought," while condemning her Aminia, from Tasso even further: "Three drunken mis-shaped animals; dancing a Scotch reel."[7] In 1789, another decreed: "Mary Moser paints Flowers transcendently. She should paint nothing else."[8] Moser was not alone. Across the Channel, reviewers derided the académicienne Anne Vallayer-Coster when she ventured away from her fêted still life and floral compositions and into portraiture.[9] Yet Vallayer-Coster's surviving portraits do not seem to deserve this aesthetic censure; nor, it seems likely, did Moser's.
Unfortunately, none of Moser's exhibited narrative works or portraits survive. Nevertheless, in 1788, when an anonymous Correspondent to The Artist's Repository wrote in with various "Miscellanies" on the state of Britain's female artists, this writer made positive note of her "historic achievements."[10] Likewise, a contemporary drawing of the Great Room from 1784 does not indicate that her efforts in these genres were of lesser merit than others on display.[11] Nor, vitally, do two painted portraits in oil by Moser that do survive, both dated to 1770-1771, each showing an artist at work. With these canvases, neither of which she seems to have exhibited, Moser used portraiture to cultivate and document the expanse of her artistic practice just as she was about to exhibit a non-floral work, in public, for the first time.
The first is a self-portrait (Fig. 1). Here, Moser appears at work on a fruit piece, brush and palette in hand. Long in the possession of Moser's Swiss family, this painting was originally assumed to be a copy after her portrait by George Romney (Fig. 2). Now dated to the same period, the canvases are nearly identical. Moser's could be a copy, but in fact it is unclear which came first. Perhaps because Moser has never been studied as portraitist, no scholar has yet deciphered the relationship between these two paintings.[12] Copying paintings is a form of Academic training to which Moser would have had access; if hers is modeled after Romney's work, it is telling that she placed less emphasis on the fruit than on herself, that she changed the foliage, and that the paint on her palette appears larger and messier, more convincingly in use. Her own features also seem slightly less polished—and thus, perhaps, truer to form. Yet whether executed first or second, Moser's version reveals a precise, targeted, and culturally conscious self-fashioning that expanded her identity as a painter of floral pieces. By presenting herself at work, Moser proved herself a competent portraitist and limner of the human form. By showing herself in a classical painter's robes, an unusual visual choice for a woman artist at this time, Moser emphasized her professional over her gendered identity.[13] And, while famous for her watercolors, she claimed higher artistic status by showing herself working in oils. Couched in an image of herself painting fruit, Moser advertised a wide-ranging and culturally prestigious set of artistic skills.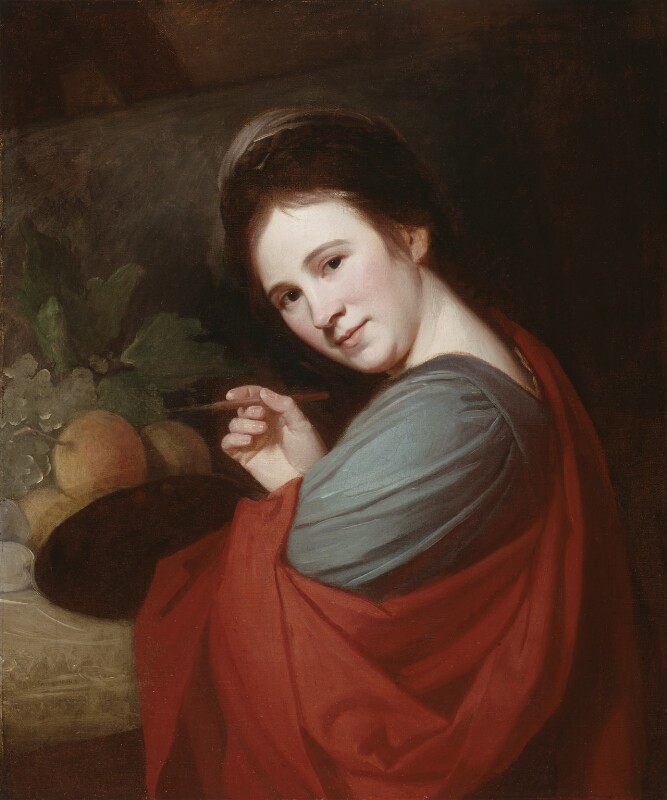 She broadened this advertisement in a portrait of her peer and friend, the sculptor Joseph Nollekens (Fig. 3). If the dating to 1770-1771 is correct, Moser painted Nollekens just as he was working to join the Academy's ranks—he became an Associate in 1771, and a full Academician in 1772. On a canvas just slightly smaller in size than her self-portrait, Moser again presented an artist at work: Nollekens is in the process of shaping a nude modello, the precise subject that, per Zoffany's canvas, members of her sex were banned from studying. By rendering a work of sculpture with paint, Moser engaged in the traditional (and traditionally male) paragone debate. But even more incisively, by portraying Nollekens modeling a nude male figure, Moser showed that she, too, could render the human form, hinting at her own ability to paint both contemporary and classicized subjects. This may well have been a longstanding interest. In a signed chalk drawing, Moser depicted a female nude, even showing her subject standing contrapposto. This signaled her own art historical learning and, again, placed in her a larger (male) artistic tradition.[14] Taken together, the Cambridge drawing and Yale painting hint at a practiced faculty in depicting her contemporaries—and an emphasis on doing so in the most time-honored visual terms.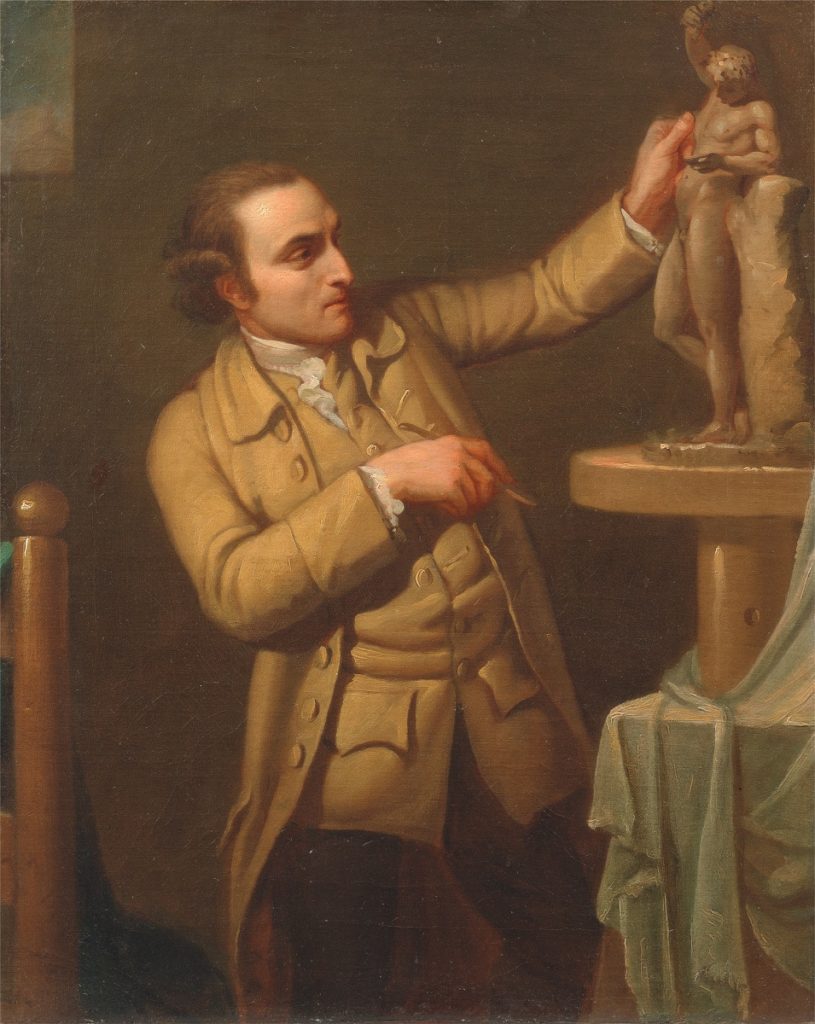 As her portrait of Nollekens suggests, Moser was active in Academic social circles and recognized the growing value of portraiture in these years.[15] Writing to the artist Henry Fuseli in Rome in 1770, she described the successes of several portraitists at the Academy's recent show.[16] Despite her relegation to the wall in Zoffany's group portrait, over the following four decades Moser participated in the Academy's administrative decisions, and twice received a vote for Academy President—possibly as a joke, as some have argued, but possibly not.[17] Joseph Farington recorded numerous instances in which aspiring and established artists solicited Moser for her vote in upcoming elections, hoping to advance in the Academy's ranks.[18] In 1790, when the painter Maria Cosway's brother applied for the Academy's traveling scholarship, Moser supported George Hadfield's application and vouched for him to the committee; Moser would later include Cosway and her husband, also an artist, in her will.[19] Her friendship with Nollekens, too, endured. In 1802, when Nollekens hoped to see "Dr. C. Burney" elected, he told Farington "He would apply to Zoffany and Mrs. Loyd [Moser]."[20] In her will, Moser left her "drawings, prints, and book of prints" to Nollekens and Benjamin West; in his will, Nollekens bequeathed Moser one hundred pounds.[21]
In her two paintings of artists at work, Moser used the genre of portraiture as a stage on which to assert her broader artistic affinities, abilities, and, perhaps, ambitions. The timing does not seem coincidental—soon after their completion, in 1772, she would exhibit a classical Hebe at the Academy, her first non-floral piece to go on public display.[22] Even more tellingly, neither canvas helps to explain the derision she received from the British press; perhaps London's critics were uncomfortable with an artist whom they had celebrated as a flower painter deciding to cross over so many genres. For Moser, however, this crossing was key. On the surface, her subjects—a female flower painter, and a male sculptor—may appear almost antithetical. But Moser used both to expand her identity as a painter across media, gender, and genre. It was through portraits of herself and others that Moser advanced new terms—a visual vocabulary of her own choosing—for her artistic self.
Paris A. Spies-Gans is a Junior Fellow at the Harvard Society of Fellows, Cambridge, MA


[1] Linda Nochlin, "Why Have There Been No Great Women Artists?," ArtNews 69:9 (January 1971), 22-39, 67-71. Nochlin reiterated this thesis in her landmark exhibition with Ann Sutherland Harris entitled Women Artists, 1550-1950 (Los Angeles; New York: Los Angeles County Museum of Art; distributed by Random House, 1976). For flower painting, see Griselda Pollock and Rozsika Parker, Old Mistresses: Women, Art, and Ideology, new edition(New York: I. B. Tauris & Co, 2013), 58.
[2] Mary Guynier's father was painter Claude Guynier. Wendy Wassyng Roworth, "Moser, Mary (1744-1819)," Oxford Dictionary of National Biography (Oxford: Oxford University Press, 2004), online ed. For more on Moser, see also: Marianne Zweig, "Mary Moser," The Connoisseur Yearbook (1956), 104-110; Fred Miller, "Mary Moser, A Forgotten Royal Academician," The English Illustrated Magazine 179 (August 1898), 434-439; and John Harris, "A Glimpse of Mary Moser in Chambers's Papers," Apollo 144:416 (October 1996), 62.
[3] Mary Moser, Composition of Flowers in a Vase, 1758, watercolor, in class for compositions of ornaments after nature for under 15-year-olds, Royal Society of Arts, London, PR/AR/103/14/31.
[4] Henry Trueman Wood, A History of the Royal Society of Arts (London: J. Murray, 1913), 193. This was Mary Moser, Painting of Flowers in a Vase, 1759, watercolor, Royal Society of Arts, London, PR/AR/ 103/14/88; the Present Artists at the Society for the Encouragement of the Arts, 1760, no. 39.
[5] London's artists held their first public show at William Shipley's Society for the Encouragement of Arts in 1760. The group soon splintered into the Free Society of Artists, which held exhibitions through 1783, and the Society of Artists of Great Britain, which held exhibitions through 1791. Both groups were quickly eclipsed by the Royal Academy, which was founded in 1768 and held its first show in 1769.
[6] The London Evening Post, Issue 8285 (May 4-6, 1775), 17th–18th Century Burney Collection Newspapers; The Morning Chronicle, clipping from 1780, bound in Royal Academy Critiques 1768-1842, vol. 1, 76, Royal Academy of Arts, London; The Morning Post and Daily Advertiser, Issue 3196 (May 9, 1783). They discussed: 1775, entry no. 202; 1780, no. 39+; and 1783, no. 109.
[7] The Morning Post and Daily Advertiser, Issue 3514 (May 14, 1784), 17th–18th Century Burney Collection Newspapers. 1784, entry nos. 34 and 161.
[8] The World, Issue 725 (April 28, 1789), 17th–18th Century Burney Collection Newspapers.
[9] I am indebted to Melissa Hyde for this observation.
[10] P. Q. R., "Miscellanies, By a Correspondent," The Artist's Repository and Drawing Magazine, Exhibiting the Principles of the Polite Arts in their Various Branches, vol. 4 (1788), 141.
[11] Edward Francis Burney, The Royal Academy Exhibition of 1784, The Great Room, West Wall, 1784, pen, grey ink, grey wash, and watercolor, 33.5 x 49.2 cm, British Museum, 1904,0101.1.
[12] This is despite occasional attention given to her self-portrait, most notably in Marcia Pointon, Strategies for Showing: Women, Possession, and Representation in English Visual Culture, 1665-1800 (Oxford: Oxford University Press, 1997); and Gill Perry, "'The British Sappho': Borrowed Identities and the Representation of Women Artists in Late Eighteenth-Century British Art," Oxford Art Journal 18:1 (1995), 44-57.
[13] For an analysis of the composition, see Elizabeth Eger and Lucy Peltz, Brilliant Women: 18th-century Bluestockings (New Haven: Yale University Press, 2008), 79-83.
[14] Mary Moser, Standing Female Nude, n.d., black and white chalk on grey-green paper, 49 x 30.2 cm, signed "M. Moser Del," Fitzwilliam Museum, Cambridge, PD.4-1947.
[15] See, for instance, Marcia Pointon, "Portrait! Portrait!! Portrait!!!," in Art on the Line: The Royal Academy Exhibition at Somerset House 1780-1836, ed. David H. Solkin (New Haven: Paul Mellon Centre for Studies in British Art & Yale University Press, 2001), 93-110.
[16] Mary Moser to Henry Fuseli, ca. July 26, 1770, in The Collected English Letters of Henry Fuseli, ed. David H. Weinglass (Millwood [NY]: Kraus International, 1982), 10-11.
[17] Pointon, Strategies for Showing, 161; Shahidha Bari, "Two of the Founding Members of the Royal Academy Were Women. Who Were They?," Frieze online (September 5, 2018), https://frieze.com/article/two-founding-members-royal-academy-were-women-who-were-they (accessed September 4, 2019).
[18] In 1799, Fuseli told Farington that he had just visited Moser, presumably seeking her support for his appointment as a Professor of Painting later that year; she had "anticipated his application, [and] said…that she had been applied to but wd. vote for him." Kenneth Garlick, Angus Macintyre, and Kathryn Cave, ed., The Diary of Joseph Farington, 16 vols. (New Haven and London: Yale University Press, 1978-1984), vol. IV, 1240 (June 16, 1799).
[19] Gillian Darley, "Hadfield, George (1763-1826)," Oxford Dictionary of National Biography, online ed.; and Mary Lloyd, b. Moser, "Last Will and Testament," PROB 11/1617/48, The National Archives, UK.
[20] The Diary of Joseph Farington, vol. V, 1948 (December 17, 1802).
[21] Mary Lloyd, b. Moser, "Last Will and Testament;" and John Thomas Smith, Nollekens and His Times, 2 vols. (London: Henry Colburn, 1829), second edition, vol. 2, 18.
[22] Entry no. 161.

Cite this note as: Paris Spies-Gans, "Mary Moser: Portraitist," Journal18 Issue 8 Self/Portrait (Fall 2019), https://www.journal18.org/4228.
License: CC BY-NC
Journal18 is published under a Creative Commons CC BY-NC International 4.0 license. Use of any content published in Journal18 must be for non-commercial purposes and appropriate credit must be given to the author of the content. Details for appropriate citation appear above.