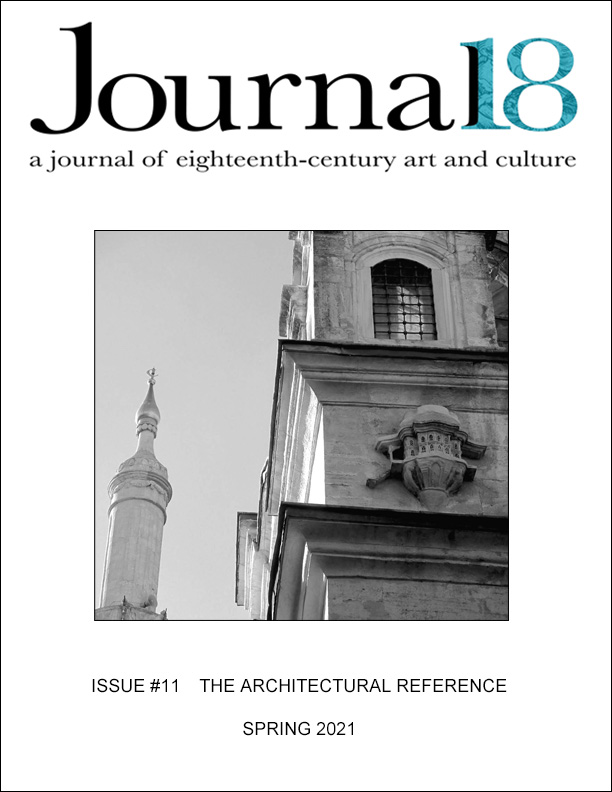 In Istanbul, microarchitectural birdhouses adorn the exteriors of mosques. In Lucknow, Urdu poets celebrate a new architectural style. In London, the local and the imperial converge on a renovated building façade. In Philadelphia, political aspirations are articulated in architectural books. And in Banaras, a new temple recasts the past and confronts an imperial present. These moments are at once distinct and connected, attesting to the multiple modes of architectural referentiality that characterized the eighteenth century's visual and material cultures. In this age of intensified mobility and exchange, artists, architects, patrons, and audiences were primed to (re)consider their own architectural traditions in light of new models and information at their disposal. Such sharpened aesthetic consciousness gave rise to—and was itself facilitated by—various kinds of referencing associated with the emergence of novel styles, typologies, and strategies. The articles in this issue engage the theme of referentiality as it relates to various regions, contexts, and media. What forms did architectural referentiality take in the eighteenth century, and what was at stake in the processes and works involved? How did referentiality figure into shifting architectural practices, the construction of historical and ideological narratives, and the evocation of alternative temporal or geographic sites?
Exploring the possibilities of microarchitecture, Christiane Gruber shows how the birdhouses that proliferated in eighteenth-century Ottoman Istanbul not only reflected and even anticipated broader stylistic developments, but also spoke to longstanding spiritual themes and to newer environmental concerns prompted by the city's growth. Nicolas Roth argues that the Urdu poets Rangin and Mir Hasan engaged deeply with the new architectural styles and typologies of the late Mughal empire, capturing in verse the visual languages that had been standardized in recent monuments and their painted representations. In her article on George Dance the Younger's new façade for London's Guildhall, Zirwat Chowdhury uncovers the multiple discourses informing Dance's design, from William Hodges's commentary on the relationship between Gothic and Indian architecture, to debates about global commerce and Britain's colonial aspirations, to the preoccupation with fire as both spectacle and threat on the streets of eighteenth-century London. Examining the contents, paratexts, and circulation of the first two architectural books published in the American colonies, Carolyn Yerkes highlights how these works—both editions of earlier British works—expressed the intertwined craft and political identities that played a crucial role in shaping the radical environment of 1770s Philadelphia. Heeryoon Shin concludes the issue with an essay on the ruler Raja Madho Singh's Amethi Temple in Banaras, a structure that simultaneously references medieval Hindu models, Islamic forms drawn from a transregional courtly repertoire, and recently introduced British Neoclassical motifs, revealing how elite patrons used architectural references to align themselves with various powers during the charged moments of transition between the Mughal and British empires.
These rich case studies both substantiate and complicate the idea of the eighteenth century as a distinct moment within the longer history of architectural referentiality. Linked though they are by certain broadly shared conditions of the time, the examples addressed by this issue ultimately challenge a neat periodization and resist any sort of monolithic "global" framework, pointing just as much—and arguably more so—to the specific contexts in which and for which they took shape.
Issue Editors
Chanchal Dadlani, Wake Forest University
Ünver Rüstem, Johns Hopkins University
---
ARTICLES
Like Hearts of Birds: Ottoman Avian Microarchitecture in the Eighteenth Century
Christiane Gruber
Verbal (Re)constructions: Reading Architecture in the Urdu Masnavī
Nicolas Roth
George Dance the Younger Sets Guildhall Alight
Zirwat Chowdhury
Print and Politics in the First American Architectural Books
Carolyn Yerkes
The Amethi Temple in Banaras: Architectural Encounters at a Pilgrimage Center
Heeryoon Shin
---

Cover image: Bird palace and minaret at the Selimiye Mosque, Üsküdar, Istanbul, 1802-1805 (minaret remodeled in the late 19th century). Photograph by Christiane Gruber.