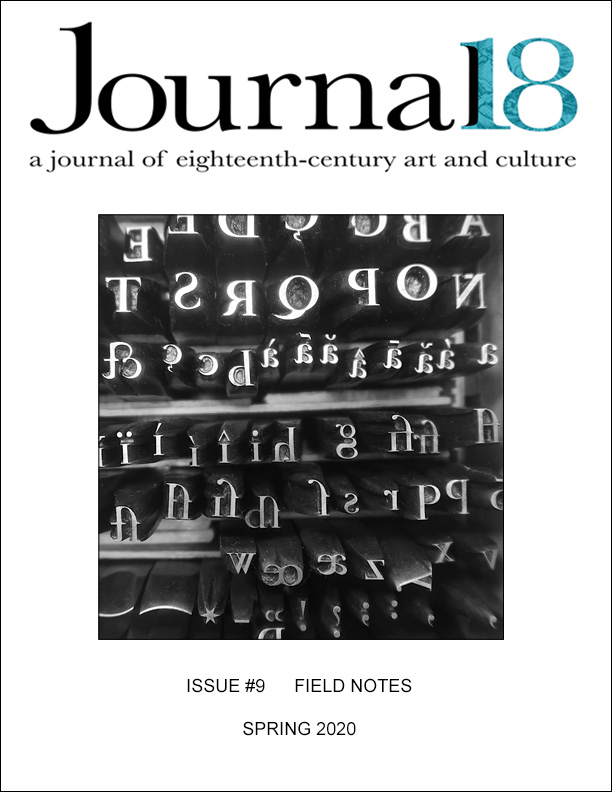 How do we understand the field of eighteenth-century art today? What are its objects of study, and how do we think, write, and teach about them? Where, and when, do we locate "the eighteenth century"? This issue of Journal18, emerging from a conference organized by the Historians of Eighteenth-Century Art and Architecture (HECAA) in Dallas, TX (November 2018), maps out the questions and approaches driving the field today, and proposes new directions for its future.
HECAA was established in 1993 at a vibrant moment in the evolution of the "new" art history in the United States, in an effort to carve a place for the study of eighteenth-century art in a discipline that had only just begun to acknowledge it. A quarter of a century later, buoyed by a membership that had increased ten-fold and an utterly transformed publishing landscape (including the founding of Journal18), an anniversary conference was convened at an exciting but also challenging moment in the field. Hosted by the Department of Art History at Southern Methodist University, the HECAA at 25 conference convened 160 scholars of eighteenth-century art to survey its history, present current research and pedagogical initiatives, and consider possible trajectories for its future.
These Field Notes take two different forms. Four research essays by emerging scholars who presented their work at the conference—on French typefaces, Korean folding screens, British ceiling painting, and American veneer furniture—showcase new scholarly directions. A parallel roundtable discussion by conference participants brings to light the most pressing issues facing, and defining, the present and future of the field—among them the importance of place and the possibilities of a "global eighteenth century," the turn toward materiality and material culture, the centrality of the work of female artists, and the impact of the digital humanities on teaching and scholarship.
Issue Editor
Amy Freund, Southern Methodist University
---
ARTICLES
The Bignon Commission's Measured Bodies: Inventing Typeface and Describing the Mechanical Arts under Louis XIV
Sarah Grandin
Tactile Vision in Eighteenth-Century Korean Still-Life, or Ch'aekkŏri
Irene Choi
A New Golden Age: Politics and Mural Painting at Chatsworth
Laurel O. Peterson
The Nature of American Veneer Furniture, circa 1790-1810
Jennifer Y. Chuong
ROUNDTABLE
Reflections on HECAA at 25: A Roundtable Discussion
Jeffrey Collins, Elisabeth Fraser, Elizabeth Mansfield, Amelia Rauser, Kristel Smentek & Wendy Bellion, Paris Spies-Gans, Nancy Um, and Amy Freund
---

Cover image: Steel type punches of the romain du roi, Cabinet des poinçons de l'Imprimerie nationale, Douai. © Photo by Sarah Grandin.