Digital Mapping & Eighteenth-Century Visual, Material, and Built Cultures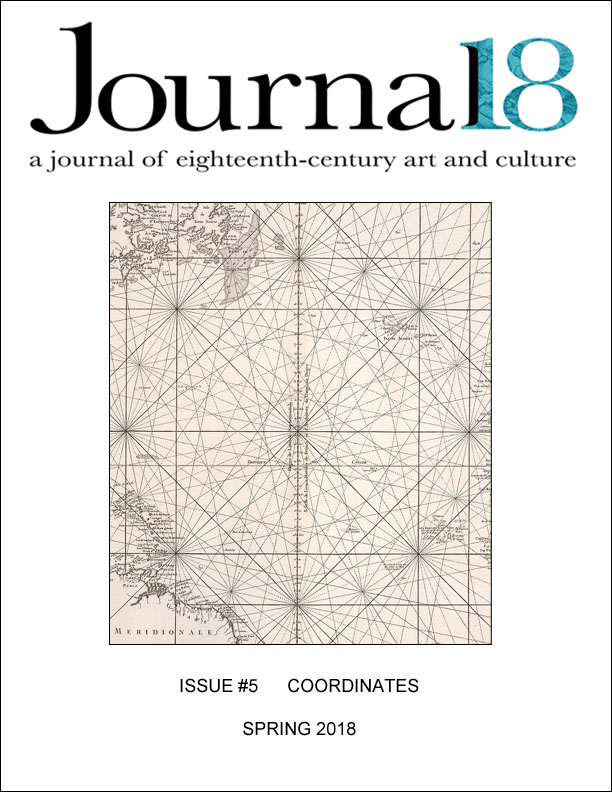 Spurred by the collection, preservation, and distribution of spatial data—practices that have both collapsed and expanded our own discursive geographies—art historians are poised to harness fully the potential of geospatial analysis for the study of visual, material, and built cultures. This issue of Journal18 features current scholarship that relies on the analytical power provided by digital mapping interfaces for the study of the long eighteenth century. As Hannah Williams shows in her article on the locations of eighteenth-century artists' studios in Paris, georectification tools can reconcile historical figurations of space with the present urban fabric, while digital mapping applications have made it possible to visualize patterns of artists' stasis and movement. These platforms can also show the dynamic lives of mobile and fungible objects along circuitous, and sometimes unknowable, trajectories, as discussed in Catherine Walsh's treatment of the "unsettled" parts of Bartolomeo Ammannati's Juno Fountain that travelled around Florence for over four hundred years. Sophie Raux has made clear the possibilities afforded by mapping the Pont Notre-Dame, enhanced by 3D architectural reconstructions that allow her to address long-standing questions about Antoine Watteau's painting of one of its shops. The interdisciplinary team of Michael Simeone, Christopher Morris, Kenton McHenry, and Robert Markley have demonstrated how computational methods can be used to analyze large datasets drawn from historical maps of the Great Lakes, thus offering new modes of seeing that exceed the human eye's perceptive capabilities. But, even as these articles display the possibilities opened up by mapping tools, data-driven methods, and digital technologies, each author is deeply aware of their limitations. As the essays in this issue demonstrate, computational approaches to the spatial humanities—which are marked by intellectual decisions, obstacles, and quandaries—must join rather than replace or supersede an existing toolkit of historically grounded methods that are based on critical analysis, close looking, and a deep skepticism about the transparent meaning of any image or map.
In addition to these four full-length articles, this issue contains three shorter "Compass Points," which reflect on projects in progress or already implemented, including the legacy of the famous Nolli map of Rome, the distribution of Baroque-period continent allegories found in buildings in Germany and Austria, and a planned database of Caribbean architecture. This issue also includes a roundtable that features contributions from faculty and students who worked on Itinera, a digital project that traces historical networks of cultural mobility and travel, housed in the Visual Media Workshop at the University of Pittsburgh.
Supported by a Digital Development Award for Art History Publishing from the Association of Research Institutes in Art History (ARIAH), this issue showcases two different electronic publishing interfaces, in addition to the WordPress platform on which Journal18 is currently offered. Williams' article is presented on Quire, a static-site publication framework that features a durable and media-rich environment with enhanced discoverability, currently under development by Getty Publications. The roundtable is presented on Scalar, developed by the Alliance for Networking Visual Culture at the University of Southern California, which facilitates non-linear, multi-vocal, and multi-modal digital presentations. Through these varied modes of output and presentation, this issue thus also engages with the ongoing question of how to best present current digital scholarship, while highlighting interactivity and integrating new modes of expression and sources of evidence.
Issue Editors
Carrie Anderson, Middlebury College
Nancy Um, Binghamton University
ARTICLES
Artists' Studios in Paris: Digitally Mapping the 18th-Century Art World
Hannah Williams
Unsettled Sculptures: Mapping the Afterlife of Ammannati's Juno Fountain
Catherine Walsh
Virtual Explorations of an 18th-Century Art Market Space: Gersaint, Watteau, and the Pont Notre-Dame
Sophie Raux
The Canoe and the Superpixel: Image Analysis of the Changing Shorelines on Historical Maps of the Great Lakes
Michael Simeone, Christopher Morris, Kenton McHenry, and Robert Markley
COMPASS POINTS
A Digital Extension of a Roman Cartographic Classic: The 1748 Nolli Map and its Legacy
James Tice
Continent Allegories in the Baroque Age – A Database
Marion Romberg
Caribes: Designing a Digital Database for Caribbean Architecture and the Problem of Overlapping Spaces
Paul Niell
ROUNDTABLE
Itinera's Displacements: A Roundtable
Christopher Drew Armstrong, Lily Brewer, Jennifer Donnelly, Alison Langmead, Vibeka McGyver, and Meredith North

Cover image: Detail of Jacques-Nicolas Bellin, Carte reduite de l'Ocean Occidental contenant partie des costes d'Europe et d'Afrique, 1766. 62 x 89 cm. Map courtesy of David Rumsey Historical Map Collection.