Explorations of Intra-Asian Artistic Exchange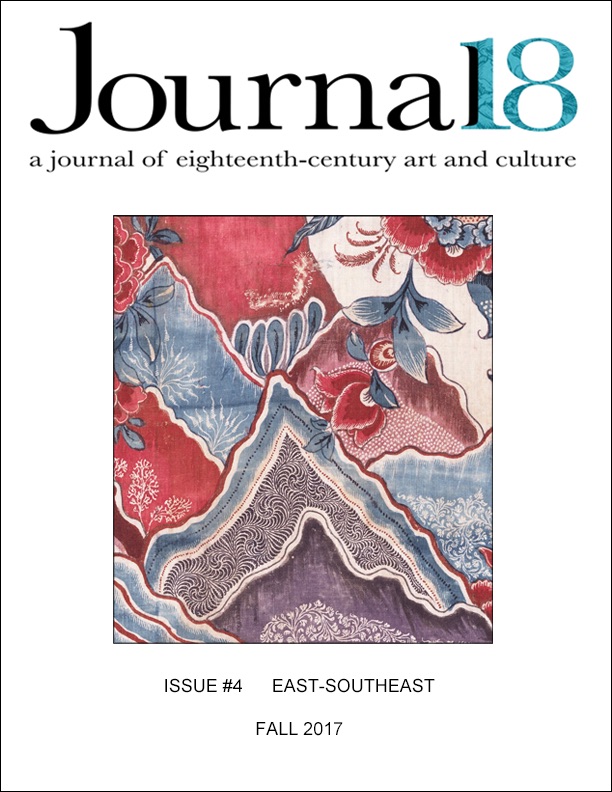 The global turn in art history has opened up the eighteenth-century world in a variety of productive new ways. Yet the view of the interconnected eighteenth century is still often that of Europe and North America looking East, rather than broader Asia's view of its own states and kingdoms that were spread out along the continent and across oceans. Trade, exploration, and diplomacy linked the region stretching from East Asia through Southeast Asia, around India, and across the Indian Ocean to the Middle East in ways that brought exotic goods from one end of this vast area to another. A few notable entities, among them Japan, forbade most or all Europeans from entering the country. But even those with significant European colonial or trade presences maintained and even strengthened their connections with distant Asian neighbors—some of whom were thousands of miles away by land or sea. Artists and artisans traveled between Asian courts and ports; luxurious and useful decorative objects brought far-flung nations into everyday contact; and imitations of the foreign competed with authentic imported goods in markets around the Eastern Hemisphere. The result is a complex and understudied area of cross-cultural contact that has yet to be fully integrated into conceptions of the global early modern world.
The Fall 2017 "East Southeast" issue of Journal18 reorients the compass of global art history by considering intra-Asian artistic contact during the long eighteenth century, and thereby begins to plumb the true depths of interaction across the Asian continent during this period. Within East Asia, Chelsea Foxwell considers how the Japanese fascination with exotic Chinese birds that arrived in the sole trading port of Nagasaki were represented in woodblock-printed books that juxtaposed realistic depiction with visual references to other works of art. Lan Wu takes a historical approach to Tibetan Buddhist art patronage in the Qing empire, using a case study of one Mongolian city as evidence for a thriving network of sites in Inner Asia, and challenging the standard narrative of patronage directed by the capital. Focusing on Southeast Asia, Imran bin Tajudeen reassesses the architectural history of eighteenth-century mosques in Melaka, Palembang, and Jakarta, which display a range of stylistic and structural connections to China, India, and Yemen thanks to a diversity of migrations and movements around the region. Linking South Asia and the Middle East, Holly Shaffer's study of temporary Muslim shrines in India uncovers how these ephemeral structures drew on architectural models and historical moments from early Islam in Iran and Iraq to enhance devotional practices. With topics that span the breadth of Asia, these four articles reveal the rich texture of intra-Asian interaction that offers new insights into the global eighteenth century.
Two "Notes & Queries" round out the issue. Rajarshi Sengupta introduces the Golconda coverlet, a seventeenth-century product of the Coromandel Coast that illustrates the thriving cosmopolitanism of the early modern Deccan. Brittany Luberda reflects on the exhibition "Reigning Men: Fashion in Menswear, 1715-2015" as installed at the St. Louis Art Museum from an eighteenth-century perspective, and considers it alongside the pendant display of "Cross-Pollination: Flowers in 18th-Century European Porcelain and Textiles."
Issue Editor
Kristina Kleutghen, Washington University in St. Louis
ARTICLES
An Architecture of Ephemerality between South and West Asia
Holly Shaffer
Mediated Realism in Kuwagata Keisai's Illustrated Book of Birds from Abroad
Chelsea Foxwell
Crafting Buddhist Art in Qing China's Contact Zones during the Eighteenth Century
Lan Wu
Mosques and Minarets: Transregional Connections in Eighteenth-Century Southeast Asia
Imran bin Tajudeen
Cover image: Palampore, first quarter of the eighteenth century, Indian (Coromandel Coast) for the Sri Lankan market. Cotton (painted, resist and mordant dyed). Image courtesy of the Metropolitan Museum of Art, New York, 2010.337.
Save
Save