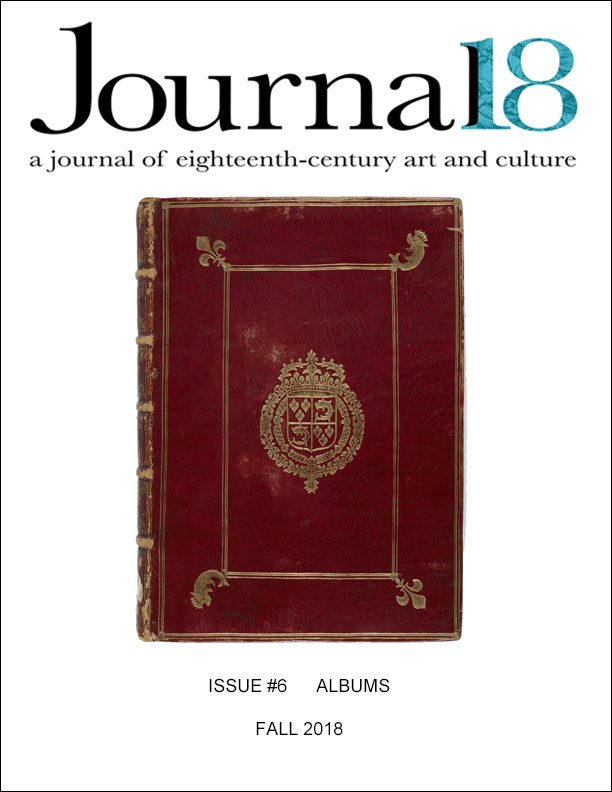 The Culture of Albums in the Long 18th Century
Selecting, collecting, classifying, curating, displaying, narrating, disseminating, transporting, entertaining, educating, subverting: what other single object does all of that at once? Ordering knowledge through the rationale of a sequenced and empirical display of data (visual, textual, material), the album became an archetypical site of the eighteenth century's way of thinking about and representing the world. Neither a treatise implementing a master-hypothesis nor a random gathering of material, albums can be described as both hybrid and structured objects. They have the physical structure of a book and the appearance of a narrative but are also sheer displays, a rhetorical organization of iconic discourses and a virtual folding or unfolding of larger ideas with specific agendas. They simultaneously contain pictorial imagery (paintings, drawings, pressed flowers, cut-ups, etc.) and are themselves artistic creations. They provide microcosmic and portable representations of a polity, a culture, or an individual. Unexpected mixtures of media and topics also invite us to think through hybrid regimes of readability, visibility and seriality. Often studied for their contents rather than as creations in their own right, albums raise many important questions regarding their status as archival or museum objects. Their contrived nature makes them ideal objects to be studied in terms of social practice, identity politics and interconnectedness as they invoke relationships, compositions and collectivity.
As the contributors to this issue of Journal18 amply demonstrate, albums offer a very fertile ground for probing the material and intellectual productivity of cultures. Marta Becherini brings to our attention a bewildering universe of Deccani effigies, bound into albums, and their European clientele, while Gwendolyn Collaço introduces us to an elusive Ottoman consumer of local (and thus more affordable) albums. Louise Voll Box delves into the mind and hands of an album-maker to show how the album becomes a site for the material experience of collecting. In a different vein, Freya Gowrley explores the emotional charge of British and American albums through the use of sentimental imagery. Both Kee Il Choi Jr and Anastassiia Alexandra Botchkareva, one focusing on albums of Chinese vases, the other on Persianate albums, discuss how albums work iconographically and as an editing table of sorts for the eighteenth-century connoisseur.
Along with the six articles, the issue features two shorter pieces in "Notes & Queries." Madeleine Pelling looks at the role of albums in women's relationships in "Crafting Friendship: Mary Delany's Album and Queen Charlotte's Pocketbook," and Natalia Di Pietrantonio examines the global mobility of albums in "Circuits of Exchange: Albums and the Art Market in 18th-Century Avadh."
Issue Editor
Nebahat Avcıoğlu, Hunter College/CUNY
INTRODUCTION
The Culture of Albums in the Long 18th Century
Nebahat Avcıoğlu
ARTICLES
Ancien vs Antique: Henri-Léonard Bertin's Albums of the Qianlong Emperor's "Vases Chinois"
Kee Il Choi Jr
Albums of Conspicuous Consumption: A Composite Mirror of an 18th-Century Collector's World
Gwendolyn Collaço
Reflective and Reflexive Forms: Intimacy and Medium Specificity in British and American Sentimental Albums, 1800-1860
Freya Gowrley
Effigies in Transit: Deccan Portraits in Europe at the Turn of the 18th Century
Marta Becherini
Marks and Meanings: Revealing the Hand of the Collector and "the Moment of Making" in two 18th-Century Print Albums
Louise Voll Box
Topographies of Taste: Aesthetic Practice in 18th-Century Persianate Albums
Anastassiia Alexandra Botchkareva
Cover image: Raynal, Figures Naturelles de Turquie, 1688. Red leather, in 4º. Paris, Bibliothèque nationale de France. Image source: gallica.bnf.fr / BnF.