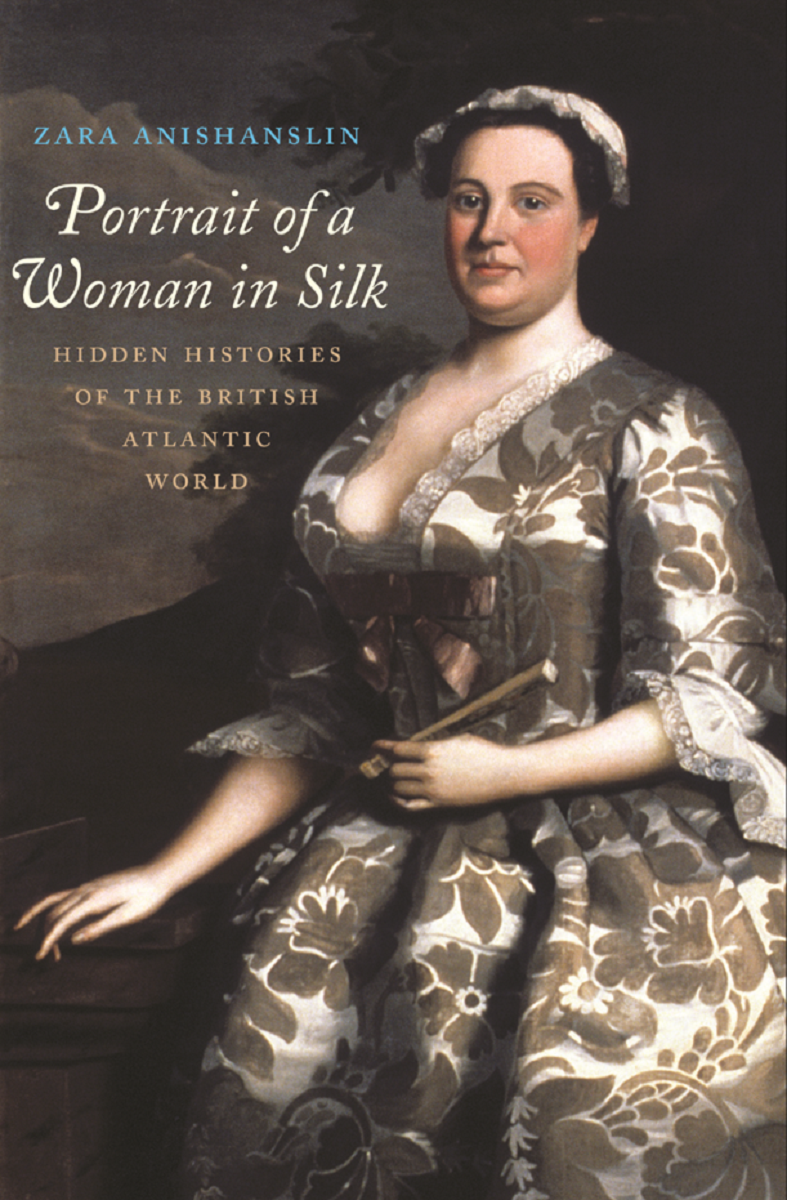 Zara Anishanslin, Portrait of a Woman in Silk: Hidden Histories of the British Atlantic World. New Haven & London: Yale University Press, 2016.
Rarely does a book offer a truly new approach to the eighteenth century, yet Zara Anishanslin's Portrait of a Woman in Silk: Hidden Histories of the British Atlantic World (New Haven: Yale University Press, 2016) accomplishes precisely that. Taking as her starting point a 1746 portrait of a Philadelphia merchant's wife, Anishanslin crafts a trans-Atlantic narrative that brings us from Lincolnshire and London to Newport and Oyster Bay while touching on sweeping historical themes including the dynamics of colonial trade, the formation of American identities, the challenges of writing women's histories, and the global exchange of botanical knowledge. Paintings, textiles, buildings, and other types of visual and material culture provide the bulk of Anishanslin's evidence. By mining such non-textual sources, Anishanslin explains, she is able to uncover some of the "hidden histories" (p. 18) of people and objects that left only scant traces in the archival record.
In a brief but thorough introduction, Anishanslin articulates ambitious goals. She sets out to complicate the received wisdom on several topics of significant interest to eighteenth-century studies. For example, lending nuance to the literature on colonial consumption, Anishanslin reminds us that "colonists were never simply emulative consumers of the products of Britain. They were also producers" (p. 15).  Focusing more specifically on silk and portraits, she argues that the shared "experience of making and buying" these luxury objects transcended regional boundaries, furthering "the development of a shared colonial identity that might be called 'American'… that predated the American Revolution by decades" (p. 17).
The introduction also lays out an innovative structure. The life stories of four individuals form the core of the book: Anna Maria Garthwaite (1688-1763), who, working in the Spitalfields area of London, designed the floral pattern seen in the portrait's silk dress; Simon Julins (1686/8-1778), the Spitalfields master weaver who commissioned the design and produced the fabric; Anne Shippen Willing (1710-1791), the Philadelphian who sat for the portrait; and Robert Feke (c.1707-c.1751), the Newport-based portraitist who painted it. By telling these four stories, Anishanslin promises to present "the eighteenth-century British Atlantic World from multiple perspectives" (p. 21).
Anishanslin devotes several chapters to each person in succession, presenting birth-to-death biographies and exploring broader contexts. Following her sources where they lead, Anishanslin varies her focus with each case. The tale of Anna Maria Garthwaite examines the gendered opportunities and restrictions that led this provincial clergyman's daughter to transform herself from a genteel hobbyist creating vellum cutwork pieces into a sought-after silk designer and successful businesswoman who sometimes found floral inspiration in London's botanical gardens. With Simon Julins, we enter the world of the London guilds and delve into William Hogarth's 1747 print series Industry and Idleness, a parable centered on the diverging moral paths of two Spitalfields weavers. Crossing the Atlantic, we visit the townhouse in which Anne Shippen Willing hung her portrait and explore the local and affective meanings that prompted her sister-in-law to commission a painting of herself wearing the dress featured in Willing's portrait. Lastly, Robert Feke's portraits of Newport merchants introduce us to the notion of the "colonial georgic… in which labor embodied a battle between virtue and vice" (p. 274)—a notion troubled by the vicious practice of slavery that underpinned Newport's apparent virtue.
A fifth, concluding section entitled "Death and Rebirth" focuses on the political disputes that roiled trans-Atlantic trade in the 1760s. Here, Anishanslin brings together two strands of history that, having occurred on different sides of the Atlantic, are usually examined separately. In London, Spitalfields silk weavers faced a devastating economic downturn from 1764 to 1766 and responded with protests that ran the gamut from peaceful lobbying to deadly street violence. At the same time, American colonists registered their opposition to the 1765 Stamp Act by boycotting English goods including Spitalfields silk. Moving briskly from these crises to the American Revolution, Anishanslin adopts a weaving metaphor to explicate the "unraveling" (p. 237) of the British empire.
For all the significant achievements of Portrait of a Woman in Silk, there is room for improvement in two areas: images and editing. Although it is surely no fault of the author, it is unfortunate that the volume's one color picture is a cropped and rather muddy reproduction of the eponymous portrait printed on the book jacket. Inside are only black-and-white reproductions of Garthwaite's floral designs, Julins's woven fabrics, and Feke's oil portraits. Drained of the colors, textures, and plays of light that grant silk its unique allure, the illustrations lack the attention to materiality that the text emphasizes so effectively. The text, while written in a refreshingly engaging and jargon-free manner, suffers in places from repetition resulting from the very structure that renders the book so innovative: perhaps because the four biographies address shared topics (albeit from different vantage points), several ideas recur in multiple sections. For instance, the impact of the Calico Acts of 1700 and 1721, which prohibited the importation of certain textiles to Britain but not to its colonies, is discussed in the introduction (pp. 14-15) as well as in the sections on Garthwaite (p. 83), Julins (pp. 108-110), and Willing (p. 190). A bit of duplication, however, is surely a small price to pay for the benefit of Anishanslin's multi-layered analysis of a Portrait of a Woman in Silk.
Laura Auricchio is Professor of Art History at Parsons School of Design, New York, NY
Cite this note as: Laura Auricchio, "Portrait of a Woman in Silk: A Review ," Journal18 (April 2017),  https://www.journal18.org/1716
Licence: CC BY-NC
Journal18  is published under a Creative Commons CC BY-NC International 4.0 license. Use of any content published in Journal18  must be for non-commercial purposes and appropriate credit must be given to the author of the content. Details for appropriate citation appear above.