The year 2018 marked the 250th anniversary of the departure of the ship Endeavour from British shores, on course to circumnavigate the globe. In 1768, the Tahiti-bound vessel carried Captain James Cook and his crew of naturalists, cartographers, astronomers, and—unprecedented for this time—professional artists. These milestones were marked by three exhibitions in London—James Cook: The Voyages at the British Library (April 27 – August 28, 2018), Oceania at the Royal Academy (RA) (September 29 – December 10, 2018), and Reimagining Captain Cook: Pacific Perspectives at the British Museum (November 29 – August 4, 2018)—and with the opening of the new "Pacific Encounters" gallery at the National Maritime Museum in Greenwich (September 20, 2018 – ongoing). Did these four different commemorative approaches to Cook's voyages lend us new perspectives about eighteenth-century artistic production?
As U.S.-based art historians who research the entangled histories of Europe and the Pacific, we decided to take the time to reflect on these exhibitions and what they reveal about the current state of our shared field. What does Cook represent in twenty-first-century global contexts, and to what extent is that borne out by these exhibitions? Though this conversation does not aim to provide a formal review of the exhibitions, it may prove useful to the reader to know their key characteristics in brief. In James Cook: The Voyages, the special exhibition gallery at the British Library, drawings, maps, and journals from the three Cook Voyages were arranged chronologically and interspersed with video commentaries on the legacies and impacts of the expeditions. Oceania, by contrast, brought together 200 material belongings from across the Pacific grouped thematically (including Voyaging and Navigation, Making Place, Gods and Ancestors, Encounters, and more) and often in dialogue with contemporary works. The theme of encounters is the central focus of the permanent gallery at the National Maritime Museum, which places an emphasis on ocean voyaging—both by Pacific Islanders and Europeans—as told through paintings, model and full-sized watercraft, the museum's London Missionary Society collections, and contemporary art. Reassessments of imperial legacies were on display in a single room at the British Museum, where the anniversary was marked by a selection of art and material culture from Aotearoa New Zealand, Australia, Vanuatu, New Caledonia, Hawai'i, Tahiti and Britain—together reflecting the dynamic and often polarized attitudes toward the lasting impact of Cook's voyages on Pacific worlds.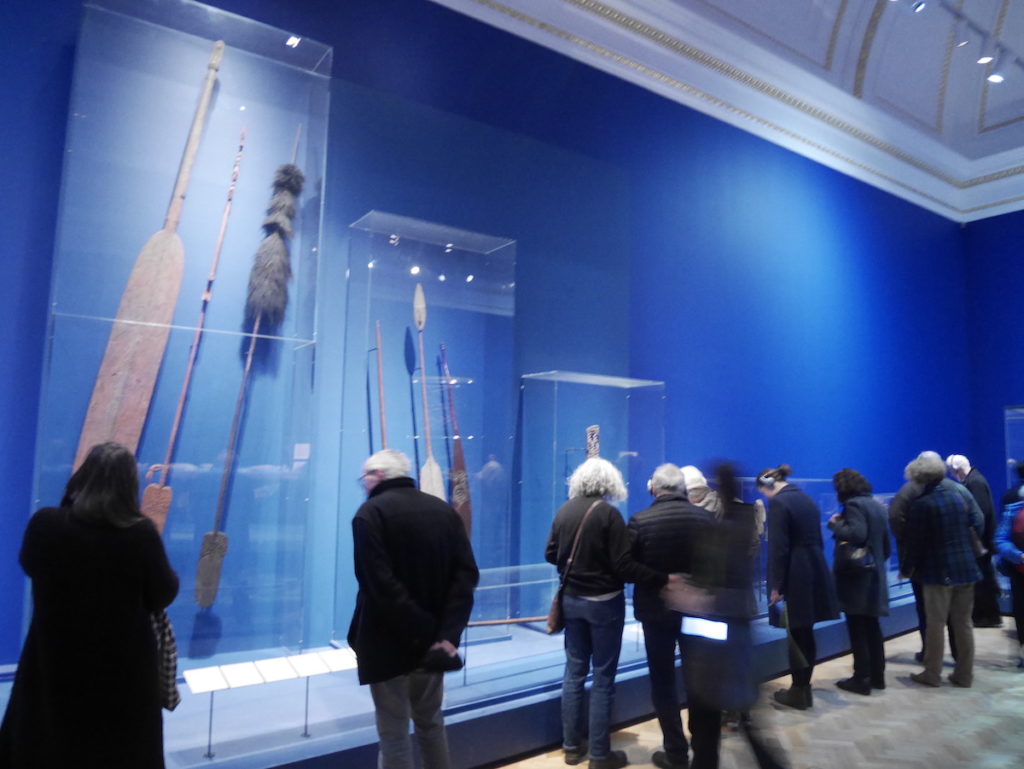 Julia Lum (JL): Perhaps we could begin by establishing how the Cook voyages have been important to our discipline? As an undergraduate, I first discovered the possibility of using art-historical methods to examine the Cook-voyage drawings, engravings and paintings when I read Bernard Smith's European Vision and the South Pacific (originally published in 1960).[1] Smith's work, in a sense, gave art-historical validation to drawings and paintings that might otherwise be confined to scientific or ethnographic archives. The basis of that validation was, however, often predicated on an aesthetic teleology. For instance, Smith was particularly interested in the academically-trained artist of the second voyage (1772-1775), William Hodges, whose approach to Pacific Islandscapes prefigured modernist painterly effects—so the argument goes—because of the collaborative interest in recording accurate natural history and meteorological data among Cook's crew. When I stepped into the Oceania exhibition at the RA (Fig. 1), I was fascinated to find that 1768, a date coinciding with the founding of the Academy and the first of Cook's voyages, was commemorated with Pacific art and material culture—heirlooms, vessels, gods, belongings and ancestors, even—representing a diverse range of Islander cultures rather than a display of Hodges's canvases, which had graced the walls of the Royal Academy's original location at Somerset House. It was a radical step for this institution. My question is: what else does 1768 imply as the marker of such an occasion?
Kailani Polzak (KP): I think the go-to for our field is to see 1768 as a moment of art and science brought together. We could also tell that story in terms of the "Royal Society of London for Improving Natural Knowledge" proposing Cook's expedition which, due to the participation of Joseph Banks, was exceptional for its inclusion of three draftsmen. This is a starting point for Bernard Smith, and European Vision is perhaps the foundational art-historical text on European representations of the Pacific Islands and Pacific Islanders. I am guessing that you would not be surprised to learn that I had a very similar experience with it as an undergraduate. One of Smith's aims in European Vision is to demonstrate that European expeditions to the Pacific were constitutive in the development of the typical landscape as an empirically-informed alternative to neoclassical landscape painting. Hodges looms large in that narrative for precisely the reasons you describe. Hodges's paintings feature prominently in the new "Pacific Encounters" gallery at the National Maritime Museum (Fig. 2). In that context they are presented as though they are one mode of representation among others—including Pacific Island conceptions of navigation and material culture—rather than privileged aesthetic achievements. (Looking through our photographs of that gallery, I'm reminded of how many of Hodges's paintings focus not merely on landscape, but also on watercraft of both Maohi and British making.) In Oceania at the RA, the space that might have normally been allocated to eighteenth-century landscape or history painting was instead devoted to large-scale installations by some of the most well-known contemporary Pacific Island artists.
JL: Yes, one such example is John Pule's Kehe tau hauaga foou (To all new arrivals) (2007), an artwork on the scale of a history painting, which confronted visitors before they exited the RA's Oceania. The Aotearoa-based Niuean artist's work consists of five canvas panels representing vertical and horizontal landscapes—spaces inhabited by gods, by technologies of modern warfare and by people fleeing conflict. Pule's work, in fact, reconfigures the very structure of landscape as an academic genre by producing a multiplicity of interconnected grounds where ancestors and contemporary human worlds interact. This aesthetic choice conspires against the kinds of familiar landscape formulas that are a lasting product of the eighteenth century: a privileged vantage point that opens up to a set of carefully-selected natural features.
To return to your point about the position of the Hodges paintings in the Pacific Encounters gallery, however, I am also reminded of how this installation deals with competing notions of time, history, and exchange. For me, one of the most poignant examples is a vitrine displaying the things accrued by one mariner (Fig. 3)—William Griffin of the Resolution (1776-1780)—that lays bare the European cabinet of curiosities conceit. "Across the Pacific, relationships were shaped by gift, trade—and theft" reads the accompanying text panel. The other side of the case (and visible through the glass) presents a contemporary interpretation of the "Lost Collections" of European things that Pacific Islanders acquisitively amassed in the early decades of encounter with European visitors. Members of the contemporary Pacific artist collective SaVAge K'lub assembled a work called Captain Cook was a Pirate, consisting of adornments that reinterpret materials left by Europeans in the Pacific as a result of these early, and fraught, encounters. This display is placed roughly in the center of the gallery (a single, large room) that has two points of entry, each end—or starting point—foregrounding vessels and voyaging. The exhibition is neither linear nor chronological but creates discrete junctures or intersections between Pacific and European cultural traditions. I can't help but wonder if this was a conscious nod on the part of the curatorial team and their collaborators to manifest the divergent conceptions of space-time between the Pacific and Europe (the cyclical nature of time in various Polynesian cultures being fundamentally at odds with Greenwich Mean Time, with which the museum is also inextricably linked).[2]
KP: It would be interesting to pursue further the conception of time in "Pacific Encounters," especially because each of the entries featured installations that foregrounded conceptions of oceanic space, navigation, and genealogy from Aotearoa, Aitutaki, Hawaiʻi, and Tonga. While the gallery did include videos with different viewpoints presented on the legacies of British missionaries in the Pacific, it would have been meaningful to have an explicit discussion of the different understandings of time in Greenwich, especially in the exhibition room where historically salient timekeepers are on display. The K1 chronometer in the National Maritime Museum's gallery was issued to Cook for his second voyage by the Board of Longitude so that he and the astronomical observers Wales and Bayly could keep consistent time at sea. Timekeeping calculations would then be compared against lunar and other astronomical observations in order to chart the positions of the ship and landmasses encountered. After Cook's death, the K1 was furnished to Captain Arthur Philip, who commanded the "First Fleet" to establish a British colony in Australia. In other words, one cannot talk about eighteenth-century exploration and colonialism without the myriad efforts that went into the fixing of time.
JL: Speaking of fixing time, perhaps we should take a moment to situate these exhibitions in their museological context, both then and now. Putting the voyage, and Cook's memory, on public display was a cultural priority from the very moment Cook's ships returned to England. Cook's apotheosis and the imaginary "South Seas" were staged in costumes and set designs by artists John Webber and Philippe Jacques de Loutherbourg in the pantomime Omai, or, A Voyage Round the World (1785). In the early 1780s, Cook-voyage collections occupied the British Museum's "South Sea Room" and at least three rooms in Ashton Lever's Leicester Square museum, the Holophusikon. Since then, there have been numerous reappraisals of the material and historical legacies of the Cook voyages. One of the most significant was the 1978 exhibition Artificial Curiosities at the Bernice Pauahi Bishop Museum in Hawaiʻi. How do you think the exhibitions were conceived in relation to these past displays? Do they significantly alter the course of past museological treatments?
KP: The history you have traced points to the three major paradigms in displaying the belongings collected on the Cook voyages, but to a certain extent museum practice more broadly: a predilection for exhaustive documentation, a context of commemoration, and an increasing consciousness that indigenous agency needs to be addressed. The first of these is arguably conservative, but necessary. There is a colonial nostalgia in wanting an inventory of the collections of these voyages, but it also makes these belongings known not only to scholars but to the descendants of the makers. The second truly raises the question: why return to Cook? And for whom are these commemorations mounted? As Noelle Kahanu states in the catalogue for Oceania, the year 2018 does not unambiguously signal the 250th anniversary of Cook's departure in the Endeavour. For Kānaka Maoli, it stands more immediately as a marker that 125 years have passed since the illegal overthrow of the Kingdom of Hawaiʻi.[3] I cannot help but think that the questions about imperial science (especially astronomy) and indigenous ways of knowing raised in these exhibitions require us to think about the eighteenth-century roots of the current debates surrounding the Thirty-Meter Telescope and Mauna Kea. Though all of the 2018-2019 exhibitions featured indigenous artists and contemporary perspectives from Pacific Islanders, they also emphasized commemoration and a sense of inventory. In some cases, Pacific Island belongings were arranged typologically, even directly evoking the engravings made after Sydney Parkinson's illustrations from the first Cook voyage. This leads me to wonder: what should we be willing to give up in order to have an exhibition about the objects collected on these voyages, and the encounters precipitated by them, that does not replicate past modes of display or exoticizing sensationalism?
JL: There is certainly a striving toward encyclopedic completion in the ways that the Pacific has been put on display in the U.K., which by nature inevitably causes omissions, occlusions, and absences. (Although it should be noted that the Reimagining Cook exhibition took the unusual step of placing British artists like Nathaniel Dance, Thomas Banks and John Webber under an anthropological gaze, representing "Britain" as one of a set of glass case displays representing the many societies that had contributed to the memory and reassessment of Cook's image) (Fig. 4). The positivist, empirical aims of Cook's voyages produced a material and visual inventory; Cook provenance has had a lasting effect on what gets celebrated and exhibited, forming a kind of canon of circa eighteenth-century Pacific art by virtue of the "first contact" frisson of acquisition. There were and remain very good reasons for scholars to do painstaking investigative work on Cook-voyage provenance. This material is scattered across Europe, and to a lesser extent, North America, and tracing a collecting history reveals important information about how material belongings were created before the onset of European settler colonialism and missionization.[4] If 1768, or European exploration in general, is the occasion for organizing exhibitions, I might take the opportunity—in a roundabout way—to return to your question about what we should be "willing to give up," which is perhaps the search for a singular, aesthetic encounter with a representative cultural artifact. The temporal and spatial constraints of the museum-as-container are immensely recalcitrant. Even with the kinds of close curatorial collaborations with indigenous scholars and knowledge-holders that each of these exhibitions enacted, it remains challenging to overturn the idea that objects represent a reified historical moment.
When I spoke to the contemporary descendants of the Nuu-chah-nulth communities who hosted Cook on Vancouver Island (on the third voyage in 1778), I was struck by an attitude toward ancestral belongings as emissaries, which entails a kind of personhood.  The Māori concept of taonga, which doesn't really have an English analogue but translates to something akin to treasure/valuables/heirlooms, is also a powerful idea. Is there a way to contextualize, through taonga and even the oil paintings, watercolors and drawings of European visitors, the unfolding life cycles of encounter and their historical repercussions? Can we manifest the ways that works by European visitors have taken on talismanic qualities as artifacts of colonialism? If transactions are an important part of an object's life history, could museums countenance a narrative of return (empty cases or walls) as part of the story of encounter in which the object is a broker? Speaking as a non-indigenous scholar and as someone for whom these conversations have very different stakes, I felt the marked distance between Britain and the Pacific. Access by source communities to their eighteenth-century art and taonga would constitute a significant chapter in what historians conceive as "encounter," not just for those communities separated from important parts of their cultural history by great expanse but also for those separated by rupture. An important outcome of these exhibitions are the resulting conversations and unfolding relationships. In their essay for Artefacts of Encounter, Billie Lythberg, Maia Nuku, and Amiria Salmond describe how Polynesian belongings, as the very substance of relations, evince a kind of weaving together of cultural technologies and materials across geographies and generations.[5] As emissaries, cultural belongings and the art of encounter take part in their own voyages.
KP: I'd be very interested to see the exhibition organized around Te Papa's newly acquired Hodges painting in Wellington, because it sounds like they employ an approach along the lines of what you describe, in that oil painting, taonga, and contemporary art are brought together. We are increasingly seeing empty cases and wall space in permanent collection displays, especially with regard to ancestral remains. I'm thinking specifically of a suite of galleries at the Museum der Kulturen in Basel that featured bright orange rectangles to signal that an ancestor or a belonging of religious significance had been repatriated. The question of repatriation is complex and one from which I feel a certain remove as I am neither a member of an indigenous community nor experienced in collections management. For that reason, I appreciated Sean Mallon and Noelle Kahanu's reflections on access and relationships in the Oceania catalogue and think it could have been impactful to include quotations from them in the exhibition itself.[6] I share your interest in an exhibitionary model that would acknowledge that these histories are ongoing and that our understanding of community significance could be more robust.
Your discussion of emissaries and taonga leads me to recall Maile Andrade and Noelle Kahanu's introduction in Royal Hawaiian Featherwork: Nā Hulu Aliʻi.[7] There they argue that waiwai aliʻi, which can be translated as royal valuables or esteemed things retained, are knowledge-bearing ancestors, serve as "material manifestations of relationships" formed by ancestors, and remind us of the mutual responsibilities forged in those relationships that continue to this day. This definition parallels discussions of taonga and necessitates that scholars and curators work with non-linear temporal models. Many of the 2018 exhibitions staged an encounter between the eighteenth century and the contemporary moment, but concepts like taonga and waiwai encourage us to think beyond facile binaries and beyond enlightenment empiricism. Noelani Arista, in an essay written in conjunction with the exhibition James Cook: The Voyages at the British Library, draws upon Hawaiian language sources written in 1838 to re-narrate Cook's first encounters in Hawaiʻi.[8] Moreover, the 1838 moʻolelo (stories, histories) to which she directs the reader, point to practices of "ear-witnessing" and Hawaiian ways of knowing that simultaneously coexist and contrast sharply with the then-and-now of the eighteenth- and twenty-first-century modes of writing about Cook's voyages.
JL: Tupaia is a historical figure who bears a significant weight in all four of these exhibitions, particularly for the exegetical possibilities you describe. A Maohi high priest and navigator from Ra'iātea (Society Islands) who traveled on board the Endeavour, Tupaia was not only an important go-between and translator but also produced a small corpus of watercolor drawings that were only properly attributed to him in the 1990s. "Tupaia's Chart," which includes 74 islands delineated in a European hand as a fair copy of Tupaia's original map(s), has been the source of much speculation as it merges two incommensurate systems of geographic understanding: European cartography and Polynesian navigational knowledge.[9] It's important to note that Cook's voyage to Tahiti was, ostensibly, in the service of astronomy (to observe the Transit of Venus) and to establish fixed longitude, and yet Polynesian navigators had been using star courses to accurately chart their paths for hundreds of years (and Oceanic cultures, generally, thousands of years).
KP: And this is something that most exhibitions about the Pacific have addressed directly for at least the past ten years. It makes sense, then, that Tupaia is the figure to whom curators most often make recourse given the fame of the charts, drawings, and important role he played on the Endeavour voyage. Tupaia and Mai, who traveled with Cook and the Resolution from Raʻiātea to London, are the Maohi interlocutors most frequently discussed by scholars of the eighteenth century. Mai perhaps figures more prominently in academic art-historical texts because of his entries into British portraiture. To return to your earlier observation about how the Oceania exhibition at the RA challenged assumptions, I think it was notable that neither the Sir Joshua Reynolds nor William Parry paintings of Mai were included.[10] Though the Reynolds portrait had been exhibited at the RA in 1776 and 1954, it made sense that neither of these oil paintings were included in Oceania where indigenous makers seemed to be foregrounded more than European representations.
JL: This is an excellent point about the foregrounding of indigenous agents who actively shaped their worlds, rather than exhibiting Islanders as subjects of European artistic representations (which, according to Bronwen Douglas, nevertheless have the potential to embed indigenous agency through countersigns).[11] The case of Tupaia is complicated by the fact that he appears twice in the "Oceania" exhibition, first as an artist and again as a historical figure in the contemporary large-scale video installation by Lisa Reihana (Ngāpuhi, Ngāti Hine, Ngāi Tū, Aotearoa New Zealand), entitled in Pursuit of Venus [Infected] (2015-2017), which stages the first meetings between Europeans and Islanders on the shifting terrain of a reanimated 1804 panoramic wallpaper (Fig. 5).[12] Reihana's source is Joseph Dufour et Cie's 1804 panoramic wallpaper Sauvages de la Mer Pacifique, designed by Jean-Gabriel Charvet for a bourgeois consumer market. Instead of the vaguely Greco-Roman figures of Dufour's Arcadia that were adapted from British and French publications, live-action performers of both Pacific and European ancestry meet and clash on the imagined islandscape. Portrayed by Saipele Mika, whose body is inserted into this digital non-space, Tupaia is both translator—on screen brokering relationships between parties—and the subject of translation through Reihana's mediation of European source material.
Reihana brings us back the very notion of "European Vision," to touch on Smith again, by re-enacting histories and artistic legacies that are already at multiple removes from their sources, through print and commercial applications, wallpapers and pop culture appropriations. Moreover, while Cook-voyage art often replicates the vantage point of the shipboard artist, the laboring bodies of British artists are equally on display as yet another form of spectacle in Reihana's vision. In one of the many vignettes, John Webber's pained negotiations with a Māori woman for her portrait—while his easel remains hidden from our view—becomes a burlesque of cross-cultural negotiation. Reihana's insertion of contemporary live actors, performers, and go-between figures in a Pacific digital terrain suggests that the interpretation of the past is always a push and pull between proximity and distance, between where we stand in the present and the different views that the archive can produce.
KP:  All of the exhibitions reflected in some way on the museum collection as archive and offered different, but related, approaches to conveying that no single perspective can responsibly be taken as an apt analysis of the potential histories contained therein. At the British Library, videos and didactic wall-texts provided viewers with a sense of major debates around Cook's voyages. The British Museum incorporated contemporary works of various scales (both in terms of material size and potential audience) and quotations from the artists to represent an array of "Pacific Perspectives." These approaches were combined in the National Maritime Museum. Oceania devoted a gallery to the theme of "Memory," where representations of ancestors made in the eighteenth through twenty-first centuries were displayed. Here a selection from Fiona Pardington's (Ngāi Tahu, Kati Mamoe and Ngāti Kahungunu, Aotearoa New Zealand) series of photographs entitled The Pressure of Sunlight Falling (2010) and Yuki Kihara's (Tagata Sāmoa, Sāmoa) video Siva in Motion (2012) both make recourse to nineteenth-century visual archives. Pardington's portraits offer an encounter with ancestors (some are her ancestors specifically) and stage a reclamation of the plaster life casts created by the phrenologist Pierre-Marie Alexandre Dumoutier that are now housed in the Musée de l'Homme in Paris.[13]
In Siva in Motion, the successive movements of Kihara's dance are captured in a style that evokes the famous photographic experiments of Étienne-Jules Marey and Eadweard Muybridge. Yet Kihira emulates this aesthetic, often described as proto-cinematic, in a digital video. Here again is that push-pull you describe; a reenactment that upends, or at the very least exceeds, the logic of its referent. Kihara has stated that the work was inspired by conversations with survivors of the 2009 tsunami that took the lives of 186 individuals in Sāmoa, American Sāmoa, and Tonga, but in the video Kihara expresses this sense of loss by donning a Victorian mourning dress. The relationship between past and present, clearly, is not linear but as circular as Kihara's wave motions. To quote Hūfanga 'Ōkusitino Māhina, the Tongan scholar whom you cited earlier, "past and future are constantly mediated in the ever-transforming present."[14] As with the Reihana installation, the Pardington and Kihara works reframe the colonial archive and break down dichotomies of tradition versus contemporaneity and commemoration versus art.
---
The four exhibitions considered here are far from the last word on Captain Cook and the Pacific; the eleven-year span of the three voyages will be marked by future events as the anniversary continues to unfold. An exhibition on view at Te Papa until June 7, 2020, Tamatea: Legacies of Encounter, puts a William Hodges painting of Tamatea (a fiord formerly known as Dusky Sound) in conversation with contemporary artworks and taongafrom Ngāi Tahu, the Māori guardians of Tamatea and its surroundings. Additionally, Pacific belongings collected by those who traveled with Cook will be displayed in other contexts. Notably the exhibition Exotic?, opening at the Palais de Rumine in Lausanne in September 2020, will feature a mahiole and ʻahuʻula that were sent to Switzerland by John Webber. As the 2018 exhibitions illuminated, Cook's voyages are a recurring museological touchpoint because they function as metonyms for enlightenment empiricism, empire, histories of science and collecting, as well as the formalization of disciplines in the study of art and natural history. In revisiting the eighteenth-century entanglement of Oceania and Britain, we look back on the intercultural encounters and modes of knowledge production that have ineluctably impacted our present moment.
Julia Lum is an Assistant Professor of Art History at Scripps College (Claremont, CA; Tongva Homelands)
Kailani Polzak is an Assistant Professor of Art at Williams College (Williamstown, MA; Mohican Homelands)


[1] Bernard Smith, European Vision and the South Pacific (New Haven: Yale University Press, 1985).
[2] Hūfanga 'Ōkusitino Māhina, "Tā Vā, and Moana: Temporality, Spatiality, and Indigeneity," Pacific Studies 33, 2-3 (2010): 168-202; Epeli Hauʻofa, "Pasts to Remember," We Are the Ocean : Selected Works (Honolulu: University of Hawaii Press, 2008), 60-79.
[3] Peter Brunt, Nicholas Thomas, Sean Mallon and Noelle M.K.Y. Kahanu, "Museums, Collections, Colonialism and the Gift: A Dialogue," in Oceania, exhib. cat. (London: Royal Academy of Arts, 2018), 69.
[4] See, for example, Adrienne Kaeppler, "Artificial Curiosities": Being an Exposition of Native Manufactures Collected on the Three Pacific Voyages of Captain James Cook, R. N., at the Bernice Pauahi Bishop Museum, January 18, 1978-August 31, 1978 (Honolulu: Bishop Museum Press, 1978).
[5] Billie Lythberg, Maia Nuku, and Amiria Salmond, "Relating to, and through, Polynesian Collections," in Nicholas Thomas, Julie Adams, Billie Lythberg, Maia Nuku, and Amiria Salmond, eds., Artefacts of Encounter: Cook's Voyages, Colonial Collecting and Museum Histories (Honolulu: University of Hawaiʻi Press, 2016), 43-55.
[6] Brunt et. al., "Museums, Collections, Colonialism and the Gift," 64-71.
[7] Maile Andrade and Noelle M.K.Y. Kahanu, "Introduction: A Journey of Encounters and Engagement," in Leah Caldeira, Christina Hellmich, Adrienne L. Kaeppler, Betty Lou Kam, and Roger G. Rose, eds., Royal Hawaiian Featherwork: Na Hulu Ali'i (Honolulu: University of Hawaiʻi Press, 2015), 16-21.
[8] Noelani Arista, "Encountering history: 'Discovery' and 'Resolution' revisited," The British Library, https://www.bl.uk/the-voyages-of-captain-james-cook/articles/encountering-history-discovery-and-resolution-revisited (accessed February 9, 2020).
[9] Anne Di Piazza and Erik Pearthree, "A New Reading of Tupaia's Chart," The Journal of the Polynesian Society 116, 3 (2007): 321-340; Harriet Parsons, "British–Tahitian Collaborative Drawing Strategies on Cook's Endeavour Voyage," in Shino Konishi, Maria Nugent, and Tiffany Shellam, eds., Indigenous Intermediaries: New Perspectives on Exploration Archives (Canberra: ANU Press, 2015), 147-168; Lars Eckstein and Anja Schwartz, "The Making of Tupaia's Map: A Story of the Extent and Mastery of Polynesian Navigation, Competing Systems of Wayfinding on James Cook's Endeavour, and the Invention of an Ingenious Cartographic System," The Journal of Pacific History 54, 1 (2019): 1-95.
[10] For further discussion of Reynolds and Mai see, among others, Kate Fullagar, The Warrior, the Voyager, and the Artist: Three Lives in an Age of Empire (New Haven: Yale University Press, 2020); Harriet Guest, Empire, Barbarism, and Civilisation: James Cook, William Hodges, and the Return to the Pacific (Cambridge: Cambridge University Press, 2007), Michelle Hetherington, ed., Cook and Omai: The Cult of the South Seas (Canberra: National Library of Australia, 2001).
[11] Bronwen Douglas, Science, Voyages, and Encounters in Oceania, 1511–1850 (Basingstoke: Palgrave Macmillan, 2014), 18-22.
[12] Reihana's large-scale video work was on display at the RA, and still images were presented at the British Museum's exhibition. These exhibitions coincided with the international tour of the multi-channel work to Venice, Brisbane, London, Honolulu, Paris, San Francisco, and Toronto.
[13] For more on Pardington's photographic series, see Kriselle Baker and Elizabeth Rankin, eds., Fiona Pardington: The Pressure of Sunlight Falling (Dunedin: Otago University Press, 2011).
[14] Hūfanga 'Ōkusitino Māhina, "Tā Vā, and Moana," 170.

Cite this note as: Julia Lum and Kailani Polzak, "The Time of Captain Cook: A Conversation," Journal18 (April 2020), https://www.journal18.org/4981.
Licence: CC BY-NC
Journal18 is published under a Creative Commons CC BY-NC International 4.0 license. Use of any content published in Journal18 must be for non-commercial purposes and appropriate credit must be given to the author of the content. Details for appropriate citation appear above.